Speaker Series at Hermosa Valley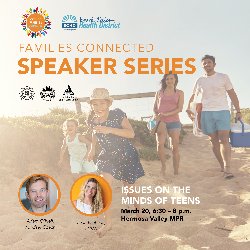 What

Speaker Series at Hermosa Valley

When

3/20/2018, 6:30 PM

–

8:00 PM

Where

Hermosa Valley Middle School
Families Connected Speaker Series – Issues on the Minds of Teens: Teen Panel and Discussion, presented by Adam O'Neil and Leah Niehaus (image attached)
Hermosa Valley MPR – Tuesday, March 20, 6:30-8 p.m.
Sleep. Stress. Substance use. Technology. Learn how these issues are contributing to students' well-being, and hear from a panel of teens about their daily lives, and how parents can help support them. The panel will be facilitated by Adam O'Neil, Mindset Coach, and Leah Niehaus, LCSW.
Adam O'Neil has been working with the Seattle Sea Hawks and other professional athletes and businesses to help them create the most optimal mindset for high performance. He may appear to be unassuming, but he has a lot of experience in working with folks who endure a tremendous amount of stress on a frequent basis.
Leah Niehaus is a therapist for teens in the South Bay and knows what they are going through and has tangible strategies that parents can use to support their overly stressed students.
Copy to Google Calendar
•
Download iCal Event